Add a level of magic to your outdoor space with creative and unique lighting ideas. Discover the possibilities of outdoor lighting today!
Outdoor lighting can add a unique mood and feel to any outdoor space. With the right mix of creative and functional outdoor lighting, you can create an inviting atmosphere that will make your outdoor living area even more enjoyable. Explore the possibilities of outdoor lighting today and find the perfect way to make your outdoor space shine!
Make a Show-Stopping Light Display with Projectors and LED Strips
Projectors and LED strips are a great way to make your outdoor living area look like a show-stopping light display. With these options, you can create stunning visuals that add an inviting atmosphere to any outdoor space. Try combining projectors with LED strips to make intricate designs and patterns on walls and fences for an even more unique effect. You can also use projectors to illuminate important features of your garden or patio, making them stand out from the rest of the space.
Projectors and LED strips have many benefits for outdoor lighting. For one, you can make a great light show without having to use traditional overhead or string lights which require more time and cost for installation. In addition, projectors are very energy efficient when compared to conventional bulbs and therefore can save you money on your electricity bills in the long run. LED strips also last longer and provide brighter light, making them a more eco-friendly option than regular bulbs. With these tools, you can easily create an inviting atmosphere perfect for entertaining friends and family outdoors.
To get started, choose a specific look or theme for your outdoor lighting. If you're looking to add some pizzazz to your landscape, projectors are great for creating special affects or images. You can also use LED strips to create mood lighting in certain areas or even line stairs or pathways with them for extra illumination. Projectors and LED strips give you the opportunity to be creative with your outdoor lighting design and ultimately achieve a show-stopping display that will leave your guest in awe.
Both projectors and LED strips are easy to install, so a basic DIY project can go a long way. Depending on the design you're going for, think about adding up-light or down-light fixtures to your outdoor lighting goals. This can help direct the focus of light in specific areas, highlighting particular elements in your landscape for an eye-catching display that leaves a lasting impression. With a few simple additions and quality light sources, you'll be able to elevate your outdoor lighting project from "ho hum" to showstopper.
LED lighting strips are especially versatile because they come in a range of lengths and colors, so you'll be able to customize the area as desired. Projectors can also help create drama and ambiance: line your walkways with tiny projectors for an elegant look, or hang them from trees for a playful atmosphere. When it comes to outdoor lighting projects, the sky is the limit! With just a few adjustments and some strategic fixtures, you can take your exterior game to the next level this summer.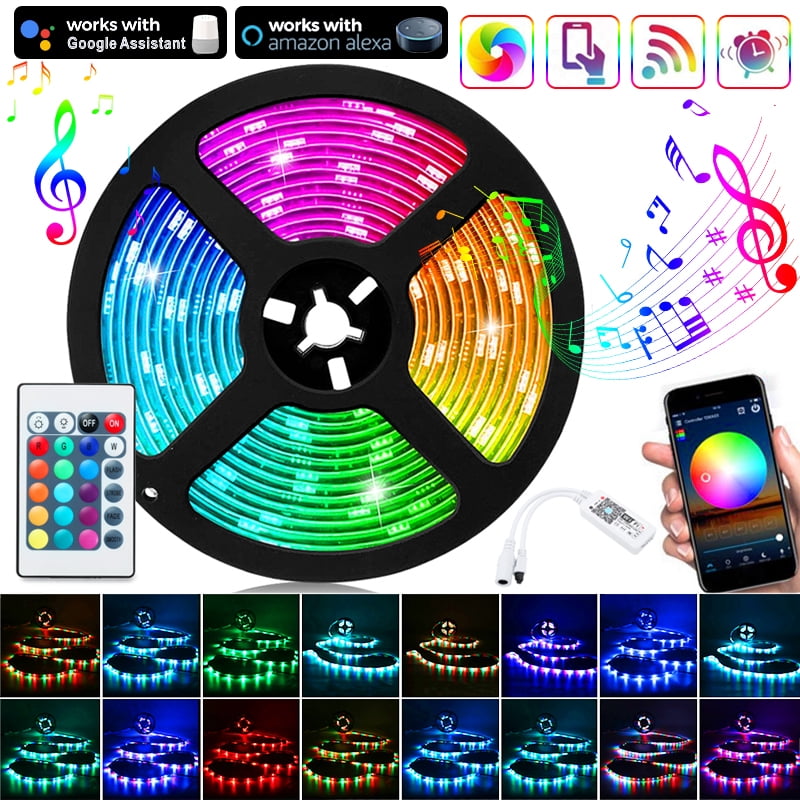 LED lighting strips add a modern and stylish touch to outdoor spaces. They can be used for landscaping, light up walkways, highlight architectural details, or for general decoration around the garden and patio. The lights are also great for creating atmospheres such as fixed-pressure wash lighting, starry skies, and even distant galaxies. You can install them close to objects in your desired pattern to add an extra sparkle or hang them further away from structures and furniture to cast a soft glow on your surroundings. Projectors are another great tool; they have the potential create more dynamic effects with just one fixture. They come in a range of styles, including tiny projectors that can be discreetly staked to the ground or hung from trees like strings of stars. No matter how you decide to illuminate your space this summer, you will be sure to make a show-stopping display that will be sure to draw attention!
When it comes to planning a lightscape, the best way to start is by mapping out the area that you want to project or light-up. Take note of any landscape features like walkways, buildings, and trees which will become part of the display. You can then move onto deciding how big or small you want your lighting effect to be. Once you have settled on a plan, place your lights strategically in accordance with it. Finally, test out various things like brightness levels and colors until you get a look that is exactly what you had in mind. A great way to experiment with different lighting effects is through app-controlled LED strips and projectors so that all the adjustments can be easily made without going outside each time. If you do decide to use an outdoor projector, make sure to invest in one with high IP ratings so that it won't be damaged by moisture or splashing water!
With the right outdoor lighting setup, you can completely change the ambience of your outdoor space. App-controlled LED strips and projectors are the perfect tools for making a show-stopping light display that will really turn heads. First, be sure to map out what you want to illuminate and how big or small you want your lightscape to be. Then, place your lights in accordance with your plan and use apps to adjust things like brightness levels, colors, and patterns so that you know you'll get exactly what you had in mind. Also, make sure to invest in an outdoor projector with high IP ratings so that it will survive even if there is moisture around. With the right planning and tools, you can create amazing effects any time of year!
You'll want to choose the best outdoor lighting options for your specific needs such as color changing LED strips, solar-powered string lights, or fancier laser projectors. Position your lights to light up pathways or trees and create stunning silhouettes effects. Also consider using additional landscape lighting which will provide more intricate details and also increase security in the backyard. With all these options from ambient lighting to twinkling stars, you can easily make an incredible show-stopping display that will wow everyone.
If you want to take your light show to the next level, try adding a few projectors or LED strips. For example, projectors are great for when you have walls or large objects to work with, as they are able to cast images onto surfaces. They can be used to create vivid lighting effects that will turn any garden into a fairytale-like wonderland. On the other hand, LED strips and rope lights provide lots of versatility and can be used on trees and pathways. Just string them up around fences or use command hooks on gutters for an easy install!
If you have the budget, combining these two lighting methods can really take your outdoor display to the next level. You can use projectors to create a light show on walls and objects, then match it with tree or pathway lights for an all-encompassing look. Plus, you don't need a professional light engineer—just a little bit of creativity and some good old-fashioned trial and error!
It's easiest to start with the projectors, since they create a dazzlingly bright light show in a short amount of time. All you need is a piece of equipment called a dry hire projector that can be rented or bought through various retailers. Set it up near your outdoor area and point it towards whatever you want to display—a wall, tree, or sculpture—then adjust accordingly. Depending on the size of the area you're lighting, consider switching up to an even bigger dry hire projector for a wider range of lighting options. You can also use LED strips as accents along pathways, driveways, and walls to help guide people in the right direction and add ambiance.
LED strip lights take a bit more assembly than projection lighting, but with a drill and the help of an outdoor lighting guide, you'll have your outdoor area shining in no time. If you want to add more customization to your outdoor space consider mounting LED strips on walls and around door frames as outlines or patterns. Create a synthesis between the two types of light sources across multiple months so that as the seasons change, you adjust your light display appropriately. By having both projectors and LED strips available, you can come up with an infinite number of combinations to create a magnificent effect in almost any outdoor setting.
Projection lighting is a great way to instantly set a festive tone for any outdoor gathering. With just one projector and the help of a few online tutorials, you can display festive designs onto your house without breaking a sweat. Adding projection mapping software will give you the opportunity to adjust and customize your displays to accommodate any occasion, from backyard camping nights to Fourth of July fireworks parties. LED lights are also an excellent addition to an outdoor lighting design scheme. They come in various shapes, sizes, and colors perfect for illuminating pathways, decks, patios or any other part of your yard that would benefit from a soft twinkle of illumination.
To combine the two, you can use a projector to display pictures or designs onto your house and then add LED strip lights wrapped around railings and other outdoor fixtures. With a few simple steps, you can make a mini art installation that will be sure to wow the neighbors - no expensive decorating services required! This technique creates an amazing visual effect while also serving as functional outdoor lighting. Projecting light designs like flowers, stars, fireworks and cars is definitely more exciting than plain white string lights!
To make the magic happen, start by finding a wall of your house or garage to project on and mount the projector. Make sure you find a secure place with plenty of space that can handle the weight of the projector in case you need to move it. If possible, test out the projection at night beforehand just to be certain your projections are in focus and facing the right way. Finally, add LED strip lights around railing posts or outdoor fixtures for a beautiful ambient light display! The strips are easy to attach and can have a variety of colors so you can customize your creation even more. Be sure not to leave them out overnight as they will sap your power bill quickly!